Yellow Submarine

Pubblicato il 17 gennaio 1969 (mono - stereo)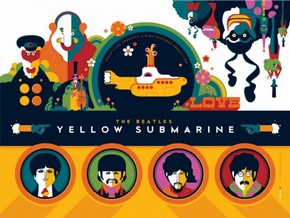 Riedito in CD non rimasterizzato (AAD)
Nuovo CD rimasterizzato con interventi sulle dinamiche del mix originale (ADD) [9/9/2009]
Registrato tra l'aprile e il novembre del 1967

Yellow submarine - Only a northern song
All together now - Hey bulldog - It's all too much
All you need is love
Pepperland - Sea of time & Sea of holes
Sea of monsters - March of meanies
Pepperland laid waste
Yellow submarine in Pepperland.


I Beatles ebbero poco a che fare con la realizzazione del cartone animato Yellow Submarine, i brani nuovi presenti sono solo quattro (Only a Northern song, All together now, Hey buldog, It's all too much). Ne sarebbe scaturito un ottimo Ep ma l'industria discografica pretendeva di più.
A questi brani, tra l'altro Hey buldog non fu utilizzata per la prima versione cinematografica, furono aggiunte le già edite Yellow Submarine e All you need is love per il lato A, mentre il lato B sarà occupato dalla colonna sonora scritta per il film da George Martin.
Non troveranno spazio tutte le altre canzoni presenti nel film ma già utilizzate in album precedenti come Eleanor Rigby, When i'm 64, Nowhere man ecc.
Nel 1999 uscirà la soundtrack del film con il medesimo titolo Yellow Submarine contenente tutti le canzoni dei Beatles presenti nel film.

Pur non avendo lavorato direttamente alla produzione del film animato ne furono la fonte ispiratrice, All Brodax riuscì a catturare lo spirito della musica dei Beatles, a sintetizzarne il messaggio attraverso una favola in cui al grigiore dei cattivi Biechi Blue si oppone il caleidoscopio della musica dei Fab che armati di "Love" vogliono portare pace e serenità nel mondo.
E' il messaggio dei giovani di quel decennio di passioni e speranze che All you need is love coglie nella sua essenza: purtroppo un'illusione che non si concretizzerà.