Past Masters

Pubblicato nel 1988 (mono - stereo)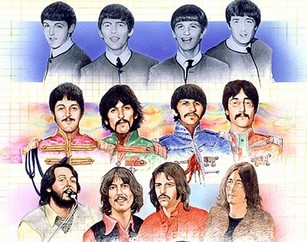 Riedito in CD non rimasterizzato (AAD)
Nuovo CD rimasterizzato con interventi sulle dinamiche del mix originale (ADD) [9/9/2009]
Raccolta

Love me do - From me to you - Thank you girl
She loves you - I'll get you
I want to hold your hand - This boy
Komm, gib mir deine hand - Sie liebt dich
Long tall Sally - I call your name - Slow down Matchbox - I feel fine - She's a woman - Bad boy
Yes it is - I'm down

Day tripper - We can work it out - Paperback writer - Rain - Lady Madonna - The inner light
Hey Jude - Revolution - Get back - Don't let me down - The ballad of John and Yoko
Old brown shoe - Across the universe - Let it be - You know my name(look up the number)

Finalmente nel 1988 la E.M.I. si decise a raccogliere tutto il materiale uscito sui singoli e sugli Ep e mai edito su Lp. Fu proposto un album doppio che conteneva i brani che da anni erano introvabili nei negozi e facevano la fortuna dei dischi pirata. Nella versione cd l'album fu separato Past Masters 1 e Past Masters 2, il primo mantiene la copertina nera con le scritte in bianco, il secondo inverte i colori.
Nella collezione si trova la versione di Love me do in cui non suona Ringo ma un session man, Andhy White, chiamato dal produttore George Martin, le canzoni in lingua tedesca, la versione di Leti it be con l'assolo di George e la versione scartata di Across the universe.
Non aggiunge nulla al catalogo ma fornisce la possibilità di ascoltare quelle introvabili registrazioni, una operazione onesta e doverosa.